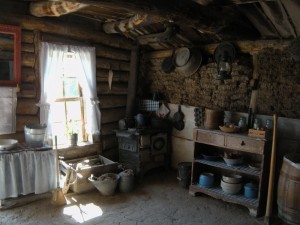 Take a glimpse back in time at how life was for early pioneers by taking the interpretive walking tour.

Watch our informative movie and then dress in Early Pioneer attire (if you want), before heading out to explore the old out buildings and sod house.  You will feel like you stepped off the pages of "Little House on the Prairie".
Prairie Homestead historical site offers a valuable history lesson while entertaining all ages and diversified interest.  The price of admission for this privately owned family attraction is all inclusive, including a history room with video presentation, and a self-guided walking tour of the sod home, cave,outhouse, chicken coop and barn.  Some original furnishings and machinery along with those typical of the times are on display.  You'll have great fun with the barnyard animals.  Pioneer clothing is available to wear on your tour around the homestead to add that historical charm and for photographs with your own camera. Listed on the National Register of Historic Places and a State Designated Historic Site.